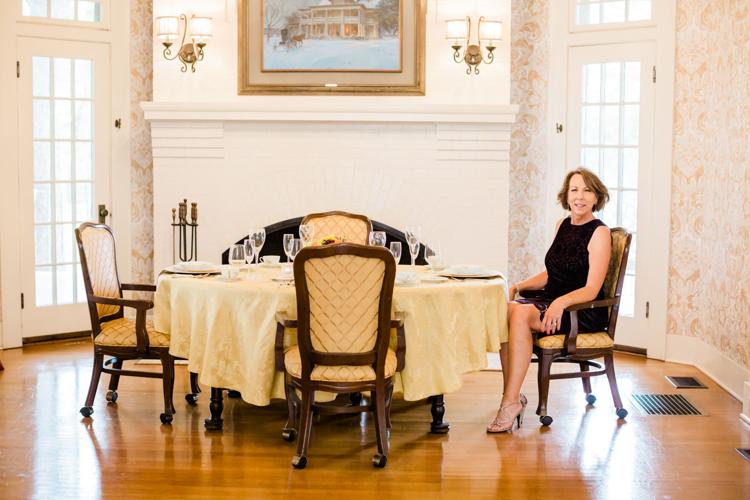 Mindy Wendele is no stranger to many in the area. She was born in Kerrville and is a proud fourth-generation resident of Kerr County and a sixth-generation Texan. She has been a respected member of the community and workforce, including stints held as director of business programs for the city of Kerrville and, most recently, executive director of Families and Literacy. Her latest endeavor is an entrepreneurial startup, Social Graces by Mindy Wendele, an etiquette consulting firm centered on helping people build confidence and kindness.
We sat down with this gracious lady to discuss how etiquette has changed over the last 100 years — since the days of her grandparents and great-grandparents.
"First off, no matter what their social or economic standing, our forefathers and mothers took pride in their personal appearance, their manners and social protocols," Mindy said. "They knew that first impressions had to be positive, and by developing proper behavioral skills, they and their children would be prepared to handle most any situation. Throughout the ages, youngsters have been taught at a very young age to show respect for their elders. Ma'am and sir flow naturally, as do please and thank you."
The evolution of greetings
As for greetings and introductions, things have changed. It has always been proper behavior to offer a firm handshake or even a light hug.
Mindy noted that, in 2020, "We've had to replace those greetings with other mechanisms. I do recommend strong eye contact and a slight lean-in toward the person you are meeting."
As far as mask etiquette goes, "When circumstances permit you to remove your mask, fold it into itself and stow it away in a shirt pocket, folio or purse."
Proper communication
With regard to communication skills, Mindy noted how accepted practices have changed in both social and business environments.
"Not too many years ago, all invitations to weddings, parties or someone's home for dinner were handwritten by the host — most likely the woman of the house. Likewise, a written response to accept or decline was expected. In today's world, although invites should still be printed and mailed for specialty events and occasions, many people opt to invite via email or text for casual gatherings or meetups, which is totally acceptable. As for business meetings, it is often the norm to use electronic programming done through Zoom or Go To Meeting apps for business or group gatherings."
She said that what has not changed is the need to RSVP — no matter how the invitation is received.
"Some things should stay at a level of formality. Business manners still leave a powerful impression on those we encounter, no matter if the meeting is in person or online."
She also sees the need to dress properly for meetings — even the online kind.
"It is still imperative that you dress the part. Even if you choose to wear shorts and flip-flops, dress properly from the waist up for those online meetings. The message you send in a non-office setting should reflect the same business atmosphere as you would in a corporate office."
Dress codes through the ages
Mindy recalled the early '60s, when she watched her father dress to go to the Arcadia Theatre.
"My Dad wore a neatly-pressed suit, tie, hat and polished shoes. The same attire would be used for church and social celebrations. Most men wore hats, whether in urban or rural settings, and they were taught to remove their hats and stow them accordingly. Women would not dream of wearing anything less than a fitted dress or suit with hosiery and heels."
Attire is now more relaxed, she noted.
"It's common to see jeans and crisp shirts at church and social settings, and in the business world, we've become accustomed to the practice of Casual Fridays. The criteria, however, is always to be neat and clean."
Dining — then and now
Social practices differ at the dining table as well.
"A hundred years ago, it was acceptable to place a cigar and matchbox on the table," Mindy said, "but that practice went by the wayside decades ago. We have different criteria now. It is unacceptable to place your cellphone on the table or to even have it turned on while dining. Stow it away in a pocket or handbag, but never on the table."
As for the table itself, "Your table settings and decor should always be a complement to the meal. I remember my mother setting a beautiful table with our good china, silverware and stemware. She had saved for years to get a perfect set of 12 place settings, but we only used it for special occasions. Don't do that; haul it out and enjoy it every day."
Never out of style
Mindy feels the time is right to advocate for improved manners.
"From time to time, I've witnessed a lack of common courtesy. Everyone should realize that little things count, including opening doors, giving up your seat to an older person, making good eye contact and being attentive. Be kind."
Her company, Social Graces by Mindy Wendele "provides group training for corporate and small business and one-on-one preparation for university students entering the job market. For the younger set, we provide age-appropriate tips and training through classes and cotillions. All services are tailor-made for the client."